A variety of conversations over the past few months have me focused on expectations.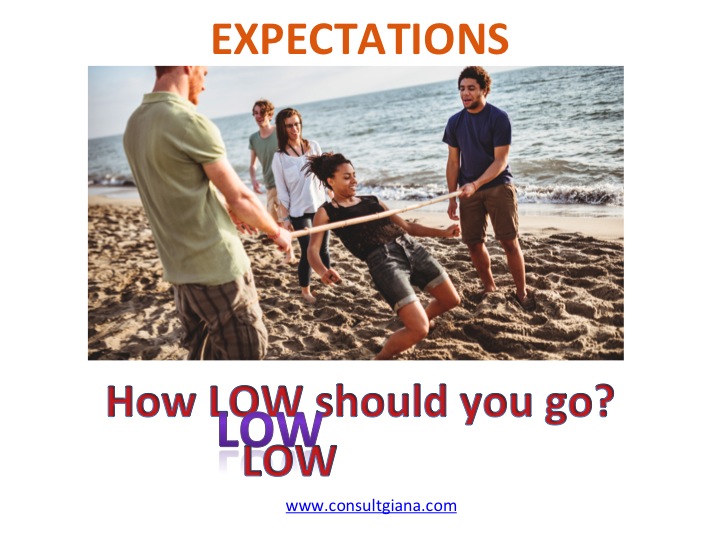 I rave about it when I am a customer and someone exceeds my expectations.
I prefer to work with people who want to exceed the expectations of their key-stakeholders and customer.
And I delight in finding ways to provide that kind of service to others.
As a result I've historically struggled to be on the receiving end of poor service, and really struggled to work with titled leaders that don't care about anything but meeting minimum standards.
---
 So imagine living life in a place where:
Minimum standards are not predefined and consistency is not the norm.

Multiple items on the menu are frequently not available.
Businesses frequently don't open on time.
Business phones are not always answered.
And you don't want to know what public restrooms look like!

Accountability is one extreme or the other with not much in between:

There is none

OR

limbs and lives are at risk.

Discrimination not against the law it is the law.
---
A few months ago one of my neighbors was expressing frustration about how a special event she attended did not meet her expectations.
She was sad because she's lived here longer than I have and has learned that in spite of what is and isn't she has figured out that there are ways to create high-quality experiences.  …And as a result she has come to expect a different norm here than I have.
As she expressed her thoughts I realized that we don't share the same vision of what is possible here.
The mirror she held up cause me to recognize that:
In a different time and place the idea of lowering my standards was almost against my religion.
When I came here I also made a choice to alter my expectations, knowing that if I focused a lot of energy on the things I could not control I would be frustrated all of the time.
That conversation made me ponder my history and my present choices, and I wondered if I'd altered my expectations too much, or if I'd wisely prevented energy leaks.
And as I pondered I remembered reading this on my Aunt's wall each time I visited her home when I was little…
God grant me…
The serenity to accept the things I cannot change,
The courage to change those I can,
And the wisdom to know the difference.
---
Over the past few weeks I've had several additional conversations, with a variety of people, about different topics but all in relation to the norms here.
Some spend absolutely no energy or time considering what they can't control.
Some don't like parts of their experiences, but are afraid to rock the boat they are in and choose to do nothing.
Some are raging against what they can't control and complain to people that don't have the power to fix anything.
And some are trying to figure out what changes they can influence.
---
I'd love to hear your thoughts…
Is it healthy to lower your expectations and accept what is?
Can you grow if you never raise your expectations of yourself, your loved ones or your organization?
How do you decide when to accept and when to be courageous?