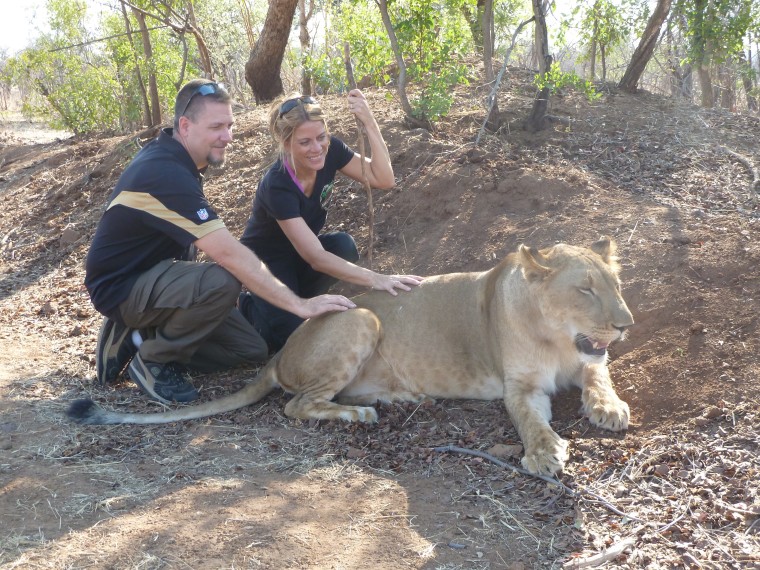 I published an article a month ago, about how our international move altered the path I thought I was on to my big dream. In that post I shared how much I trust in this altered path, even though it doesn't make complete sense yet.
About the time I published that article I heard this quote,
Two weeks ago my husband and I took a vacation to Africa. On the plane I read Nelson Mandela's book The Long Walk to Freedom, deeply considering how a wide variety of good and bad experiences changed his perspective, caused him to seek truth, ponder deeply, and shaped the man he would become. At several places in his story I thought of different struggles that others have faced that have taken them to their knees and challenged their perspectives and then changed their futures. In the midst of those reflections I wrote these words…
Would you say yes, if you knew:
That great risk would lead to a greater reward?
That a job loss would lead to a new career in a new industry?
That a heartbreaking betrayal would make you softer and stronger and wiser?
That learning to forgive would help you experience uncommon peace? 
That years of unwanted change and confusion would lead to growth? 
That an uncommon sacrifice would create the change you've dreamed of?
That an ending would create a better beginning?
In the days that followed, those words would come to have an even greater meaning.  …To help you understand why, I have to take you back in time…
When I was 10, my Mom read chapters from the book, The Lion, The Witch and The Wardrobe to our family as we drove across the U.S. for a family vacation.Within a few chapters, I was completely hooked on the story, and grabbed the book from her and read ahead, and then devoured the rest of the series The Chronicles of Narnia.
In the series Aslan is a Lion King that is wise, beautiful, kind, sometimes playful and sometimes incredibly firm. My favorite parts of the books are the interactions between a little girl named Lucy and Aslan.  Moments that were often playful and would end with her hands buried in his mane, followed by him sharing simple but powerful truths with her.
As a visual learner, those books painted clear pictures of great leadership and strong relationships. And planted in my heart, a forever love of lions and a deep desire to one day bury my own hands in the mane of a lion.
Back in the present in Africa… We went on our first game drive at 4:30 PM. An hour and a half later, we had not seen many animals. I knew that we had another hour to go, and five more game drives scheduled, but I was already praying, "Please let us see a lion before we leave here."
A few minutes later, we drove around a corner where another jeep had discovered the most beautiful male lion lying under a tree. As our jeep approached we could see him through the trees and he roared several times. Have you ever hear a lion roar? It is an incredibly powerful, awe-inspiring sound.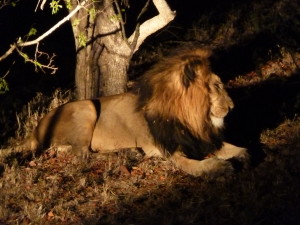 Apparently roaring takes lots of energy, so The King decided to rest; we got the most amazing pictures and my heart overflowed.
Several days later in a different location we went on a lion encounter and were quickly told that we could walk with two female lions and pet their thighs, but nothing more. (Not exactly what I'd been dreaming of, but I was still thrilled.)
Towards the end of our walk, the two females went to another group and for some mysterious reason two more lions joined us, one male and one female. (Yes – I was bubbling over with excitement!)
And then our guide asked if anyone wanted to sit with the male lion and put their hands in his mane. And a dream of many years came true!
When my finger massaged their way into his mane, I looked at my husband, trying to process the emotions I was feeling and attempted to choke back some unexpected tears, "I can't believe this is really happening." He reassured me that it was, and then the tears flowed.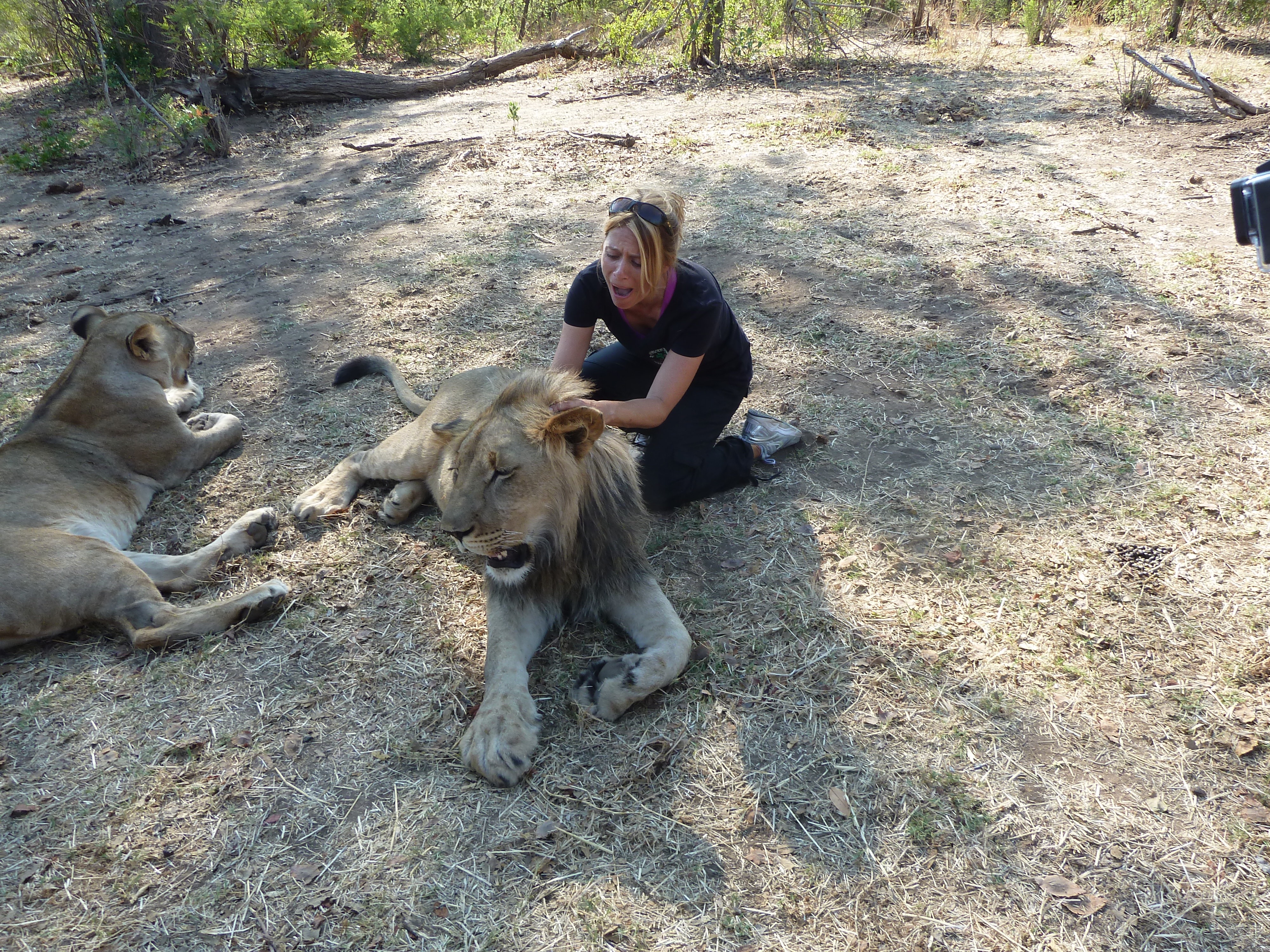 From the first night on our safari to the day that my hands were buried in the mane of that beautiful lion and in every hour I've spent reflecting on our journey… I've been reminded that walking by faith continually provides perspectives that really are a passport to an uncommon life.
The moment we said yes to life outside of our comfort zone I've had to choose my perspective.
About the desert we would live in.
About the people that I'd never met but were frequently stereo-typed in the news.
About the cloak of invisibility I would have to wear.
About the things we can't do.
About the dream that I still have…
No my lion is not my biggest dream. He is still a symbol of what my dream means to me and a reminder of all that I've gained from and unlikely, "Yes."
Think of any challenge you are currently facing… What if a new perspective is your passport to a better future?
Would you say yes, to…
Seasons of extreme pain?
Unwanted change?
Life outside of your comfort zone?
Or an altered path?
If you knew that something bigger than you could imagine was in store for you?
---
After we returned home, I wrote this post and shared pictures with friends on Facebook.  However, before I published the post, someone I do not know contacted me in a private message over Facebook, stating that she was a friend of a friend and she wanted me to know that the Lion Encounter I just described was a horrible progam.  I read her message on the fly and when I went back to read it for detail it was gone.  I was also contacted on Twitter, but when I responded and asked questions, I received no reply.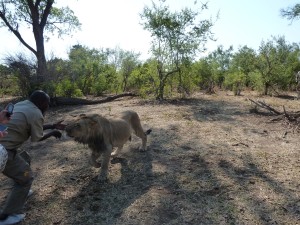 Although I am still feeling incredibily blessed by our experience I took the time to review what we witnessed and to do some more research.
These lions were not drugged.
A beautiful relationship between the staff and the lions was clearly evident.
The staff oozed passion as they shared the vision for the program.
We trust the tour company we used, and were delighted to notice that some of the other optional excursions we were given on our trip were to places that were recommended by animal rights websites.
And as I've done a bit more research I discovered this article about the program from another tourist that was also seeking truth.