Written for real people that work, that have loved ones, that want to make a difference and have meaningful lives… But sometimes struggle with the pressure to lead, perform and inspire.
At some point, almost every manager will lose their initial enthusiasm, start to feel overwhelmed and become disengaged. Before that happens, get a copy of Energize Your Leadership and learn how to join the ranks of those who avoid this trap. If you've already hi the wall, read this book immediately. Help is on the way! Jesse Lyn Stoner
Co-Author of The International Bestseller, Full Steam Ahead!
We've chosen to honor your humanity instead of ignoring it or treating it as something seperate from your professional life. 
Our stories aren't written from the clouds, they are written with our feet firmly planted on a very messy and unpredictable earth.
As you read them it will become clear very quickly that we're not perfect and we don't have it ALL figured out.
We are real people who want to do the best we can in our personal and professional lives.
We believe that in order to function at the highest possible level we need to access the wisdom and energy found in embracing our whole selves rather than compartmentalizing our lives.
These stories and lessons are our gift to you. We invite you to walk into our energy- sapping challenges as if they were your own, and share our transformational moments.
As you read them, you may be surprised at how familiar they seem.
You'll discover that you are not alone.
Your vision and passion will be reignited.
And you will be equipped with the tools to energize yourself, others, your workplace and your future.
The power of storytelling comes alive in this collaborative book, Energize Your Leadership. These diverse leadership pros wisely decided to write a book that reached instead of preached. They dug deep into years of personal experiences to offer every leader and future leader the ONE thing they each need: A reflective way to stay energized. Without lecturing or proclaiming there is one best practice, they break through the apathy, that all leaders can intermittently feel, with stories that inspire. Kate Nasser
The People Skills Coach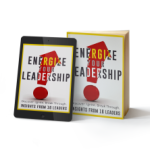 On Amazon Kindle or Paperback



Authors:  Susan Mazza, Terri Klass, Barry Smith, Tony Venegrove, Karin Hurt, Alli Polin, Carol Dougherty, Daniel Buhr, Lalita Raman, Dr. Hoda Maalouf, Scott Mabry, LaRae Quy, Jon Mertz, John Thurlbeck, Cynthia Bazin and Chery Gegelman