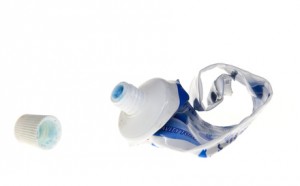 As the recession gained momentum, I heard an analogy from a manager about how a tube of toothpaste can seem empty but if you keep squeezing there is a little more in there.  The point that was being made, was that if you keep squeezing people, you will get more out of them and that you should just keep squeezing. That image still makes my stomach churn.
 Instead of squishing them, fill them:  Provide vision, purpose, knowledge and support.  And then unleash them to be a part of the solution. 

You will inspire confidence, expectation and hope.
You will unleash their hearts, their knowledge, their creativity and their reserves.
Everyone will have more fun.
And together, you will produce results that are greater than anyone imagined possible.
The world is crying our for leaders who build up, nurture and enhance; rather than tear down, exploit and dominate. -Laurie Beth Jones
Looking for some good data about why layoffs and downsizing don't work.  Click here.
Looking for help in putting the Human back into Human Resources?  Click here.
How are you preventing the squish and toss in your company?