When I was in elementary school I was EXTREMELY fascinated with this man's life, and his contributions to our world.  So much so that when my classmates were ordering posters of movie stars, I ordered posters of him.  When my family drove to Disney World in Florida from North Dakota, the greatest event on the trip was a surprise visit to his birthplace!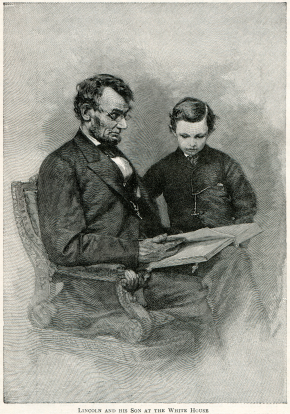 As an adult, my co-workers gave me a beautiful gift from Successories with this man's image and the quote below. Today I honor his birthday by sharing some of the lessons about perseverance, character, courage and leadership that I've learned from a man I've never met…
He FAILED in business in '31.
He was DEFEATED for State Legislator in '32.
He tried another business in '33.  It FAILED.
His fiancée died in '35.
He had a nervous BREAKDOWN in '36.  
In '43 he ran for Congress and was DEFEATED
He tried again in '48 and was DEFEATED again.
He tried running for the Senate in '55.  He LOST.
The next year he ran for Vice President and LOST.
In '59 he ran for the Senate again and was DEFEATED.  
In 1860, the man who signed his name A. Lincoln,was elected the 16th PRESIDENT OF THE UNITED STATES!
And in 1865 just two months before he was assinated,  he signed a joint resolution submitting the proposed 13th Amendment to the states  that reads, "Neither slavery nor involuntary servitude, except as a punishment for crime whereof the party shall have been duly convicted, shall exist within the United States, or any place subject to their jurisdiction."
---
Tell me something:  What lessons have you learned from people you have never met?