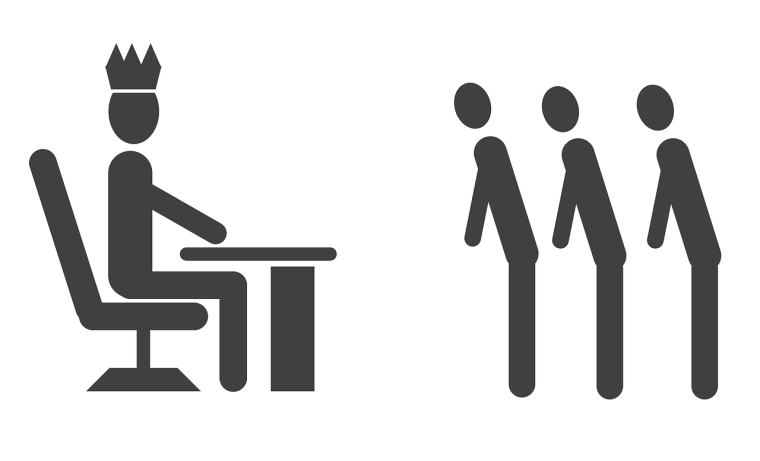 I was recently visiting with someone about the goals of young professionals in a specific location. She said that everyone wants to be a manager.
So I asked why:
Was it about the title?
The perceived power?
The paycheck?
The perception that it is an easier job?
She said they want to sit behind a big desk and sign things.
Instantly I visualized a "manager" sitting behind a big desk with their feet resting on the desk reading a newspaper. A clap of his hands and someone comes running with a hot beverage. A loud shout results in several people running into his office – varying ages, heights, and ethnicities – all cowering in fear. "Yes Boss…"  (True story!)
Then I pictured another true story that a friend recently shared with me. A CEO of an extremely wealthy and powerful company scheduled a meeting with another company. The day before the meeting, his staff visited the location he would be at to review the agenda and identify any potential security risks. The day of the visit the CEO arrived in an escorted caravan. As soon as doors opened several members of his staff began making and serving tea for everyone at the meeting.
The entire process fascinated my friend but he was not impressed until he witnessed that very powerful CEO personally engaging with people from a variety of positions. In each interaction he focused on the individual in front of him. He asked personal questions and demonstrated a genuine interest in each one.
As our discussion continued, we talked about managers that sit in their offices all day and never meet the people that work in positions that are levels "below" them.
And then we compared those titled leaders to the ones that intentionally get out of their offices, walk around, and engage with people at all levels.
We both remember the first time titled leaders that were far above our paygrade showed a genuine interest in us. And we remember the reaction of our employees the first time that titled leaders far above their position took the time to sit, listen and ask questions.
We are never too old to learn that great managers:
Aren't lazy.
Don't hide behind their desks.
Don't try to motivate people with fear.
Are genuinely interested in others.
Intentionally block out time on their calendars to walk around and engage.
Really listen.
Know more about what is really going on in their organization.
Remove more roadblocks.
Fuel more passion and loyalty.
Achieve greater results.
Please share:  What have you witnessed great managers doing?
---
Image credit:  Pixabay