A series of events has me thinking about rules.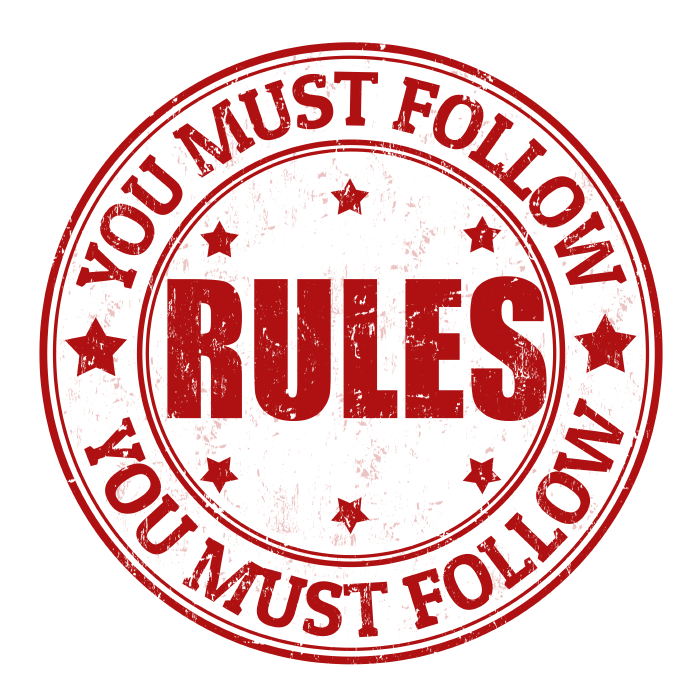 First I thought about the Rule MAKERS I know.
We'll make this rule because it will make MY job easier!
Then I thought about the Rule BREAKERS I know.
I follow ALL the rules… EXCEPT
Then I thought about the Rule FAKERS I know.  
This rule is here just for our protection – I don't care if it is followed or not, but if the authorities ever come, I can show them our rules.
And then I started to wonder if the makers, breakers and fakers ever considered these questions before they made a rule, broke a rule or pretended to have a rule. 
Who are the rules for?
Your citizens?
Your customers?
Your employees?
The titled leaders?
The people or teams you don't like?
The auditors?
The lawyers?
Yourself?
Why were they created?
To support a vision?
To breathe long-term life and health into an organization?
For safety?
For security?
For cleanliness?
To control others?
For the benefit of one person or one team or one group of people?
To pretend to care about a problem?
To cover the leader's rear if there is a problem?
To prevent a conflict between individuals, teams, and groups of people?
To deal with a temporary situation?
To address an individual situation indirectly?
Who holds people accountable?
All of the titled leaders, all of the time?
Some of the titled leaders, some of the time?
Peers?
Direct Reports?
Customers?
Auditors?
Lawyers?
No one?
How well are the rules working?
Are they limiting risk?
Are they increasing trust?
Are they limiting division and conflicts?
Are they simple?
Are they easy to understand?
Are they bringing people together?
Are they increasing efficiency? …Effectiveness? …Service? …Results?
Question: Please Share! You can leave a comment by clicking here.
Why do you make rules?
Do you follow all of the rules someone else makes – ALL OF THE TIME?
And if not, how do you decide which rules you follow, which ones you break and which ones you fake?