As I drove into the driveway, I noticed something in the window of the garage door.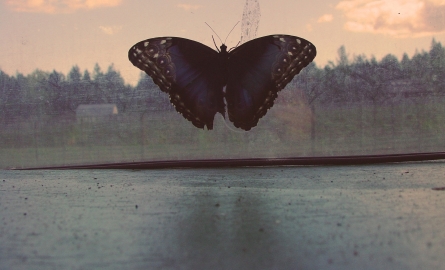 When I drove in and closed the door, I realized that the "something" was the largest butterfly I'd ever seen.
He was pressed against the glass looking back at the world he had come from, and although he could see it, he could not touch it.  (It is important to note that this was a "Louisiana garage" – a carport with a roof and a garage door on the front, a wall on one side, a fence and open skies on the other side, a covered walkway and more open skies on the rear.)
This butterfly was so focused on looking back that he did not realize that the open air was just beside him and he could fly away at anytime.
I tried to motion him towards the blue skies and puffy clouds that were just a few flaps away.
He flapped his wings and landed back on the glass and clung tightly.  
There are times that looking back is healthy:
When you are seeking to identify the cause of something so you can improve.
When you are seeking wisdom from history.
When you are seeking to understand someone else.
When you are seeking to be accountable for your own actions.
When you are trying to heal.
When you are learning to forgive.
When you are honoring the memory of someone.
The farther backward you can look, the farther forward you can see.  Winston Churchill Click to tweet
 And there are times that you must stop looking back, turn around and fly:
When you've discovered the root of a problem and can leverage that knowledge to build something better.
When you've examined history and learned something that will help you today.
When you've examined a situation and come away with a new perspective.
When you've examined your actions and see opportunities to grow.
When you've given yourself time to acknowledge pain and before you give into victim thinking.
When you've experienced grace and have begun to pass it on.
When you've cherished  memories, given yourself time to grieve and realized that you can honor someone's memory more by sharing the gifts they gave you with others.
Although the world is full of suffering, it is also full of the overcoming of it.  Helen Keller Click to Tweet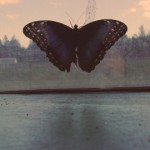 How about you?  
Have you ever found yourself looking back with longing?
When was the looking back healthy and when did it keep you from flying?
What would you add to this list?
Please share! 
Image credit:  iStock