I live more than 7,000 miles from my home, in an expat compound on the other side of the world.
Shortly after we moved here, one of my neighbors was venting about a conflict he had with another neighbor. In the midst of his anger he said, "I don't know how the compound can let people live here that don't have any integrity."
Hit the pause button.
Rewind.
Replay… "I don't know how the compound can let people live here that don't have any integrity."
Even the biggest corporations and most powerful law enforcement agencies haven't figured out how to accomplish that!
A DNA test – may help you eliminate people based on your prejudices but it absolutely can't test integrity.
Lie detector tests aren't foolproof.
And background checks can only verify if someone has ever been caught.
Other traditional options:
Give blind trust to everyone. And waste tons of energy raging or grieving when someone deceives you.
Be suspicious of everyone and let energy leak slowly from you.
Review the data and trust your logic.
Have a conversation with the person in question and trust your heart.
OR consider an option they don't teach in school…
In our new book Energize Your Leadership I share a very powerful discovery that emerged in the midst of a three-year period of time that started with lies and loss.
That discovery instigated this question…
And that question triggered a flood of memories from my life when my gut had communicated truth that was in direct opposition with logic.  (Alarms about physical danger, cues on how to be a better leader, warnings about bad hiring decisions, nudges on how to leverage my gifts to serve others at a higher level.)  …Sometimes I'd listened. Sometimes I had not.  Causing me to wonder how much energy I would have saved by learning to tune into my gut at a higher level.
Have you ever:
Been deceived?
Struggled to discern the truth using only data and your logic?
Regretted not listening to your gut?
When I polled my social media circle, 100% of the people that responded said they have regretted not listening to their gut. (…Even if they've never considered that truth may be discerned there first.)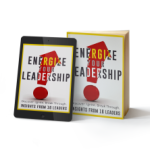 If you are a corporate professional, a working parent, or a small business owner that has ever needed more wisdom and energy. I encourage you to check out our new book. It is filled with the true stories of 16 people that have worn those shoes and experienced energy sapping challenges as we worked to be successful in business and in life.
You will relate, you will be encouraged, you will be inspired, and you will gain practical and actionable advice.